Musli Xtra Power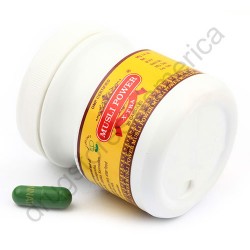 Rating :

Kunnath Pharmaceuticals manufactures Musli Xtra Power medicine for relieving impotence issue like Erectile Dysfunction also known as repeated penile failure. These medicated capsules are 100% natural sex enhancer of a kind in its extraordinary effectiveness. The capsule enhances libido in body and work as a powerful stimulant for both sexes. This medicine is available in pack of 30 capsules for oral consumption.
The active ingredients in the medicine include Musli, Kapikachu, Ashwagandha, Muringa, Dhatri, Tribulus, Shilajeet and Jathi Pathri. The herbal capsules boost strength and stamina, enhancing general wellbeing and vitality, protecting cardiovascular health, lowering stimulant/energy and excluding old age fatigue during intercourse.
Usual recommended dosage with this herbal capsule is to consume approx. 2 capsules per day post food with warm milk or water. Take this capsule for any length of time after the initial course of approx. 45 days and further as prescribed.
Proper consumption of Musli Xtra Power capsule shows effective results within a week's time once the course is started and followed as prescribed.
This herbal solution does not lead to any side effects. However, side effects may occur in rare and extreme cases of overdose or if the consumer is allergic to the ingredients composed in the capsule.
Write a review
Your Name:
Your Review:
Note:

HTML is not translated!
Rating:
Bad
Good
Enter the code in the box below: